This academic year (2021-2022) we are celebrating the 75th anniversary of SUNY Broome. We are excited to spend the year remembering our past, sharing memories, and celebrating how far we have come as the community's college. Please join us in our celebration by sharing a memory using #SUNYBroome75 on Twitter and Instagram or use our "Share a Memory" form below to upload your memorable moments. Be sure to visit the "Timeline" page to read through some interesting highlights from our 75 year history.
SUNY Broome Memories & Celebrations
Or use #SUNYBroome75 on Instagram or Twitter to have your post featured!
History
SUNY Broome Community College traces its roots back to the end of World War II, when veterans began returning home and sought greater educational opportunities. In 1946, the state legislature agreed to establish five institutes of arts and sciences – in Binghamton, Buffalo, Utica, White Plans and New York City – for an experimental five-year period.
Under the direction of Cecil C. Tyrrell, the Institute of Applied Arts and Sciences opened a year later in the State Armory downtown, with the first class graduating in 1949. Of the first 215 students, 63 were World War II veterans. Plans to turn the institute into a two-year community college took shape in 1950, when then-Gov. Thomas Dewey approved a master plan for developing the state's education facilities.
Disaster struck in the early morning hours of Labor Day in 1951. The Armory was destroyed in what was then the worst property damage fire in the city's history. Despite the massive loss, college officials were determined to rise from the ashes.
"We'll never have a better opportunity to plan for the campus that we all know we'll need someday," Director Tyrrell told his fellow administrators while surveying the smoldering ruins.
"We'll start planning tomorrow morning."
Hornet History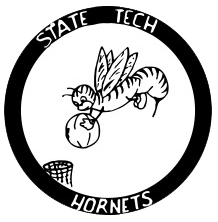 From Tech Talk, Jan. 6th 1949
The Technicat is Dead – Long Live the Hornet
The Technicat is dead unless he returns to claim the rest of his nine-lives. No one mourns his passing. He never was a popular pet. This was proven conclusively when the student body voted to replace him with the Hornet. It took the sports editor of a local newspaper to come up with the right name. He took one look at our black and gold uniforms with the striped knee-length socks and the name was inevitable.
We print [the new] Hornet as envisioned by Dick Latham, a T.O. freshman who majored in art at Binghamton Central High School.