Tuesday, April 12, 2022 at 10:00 am
Attend in person or via Zoom
The event will be held both in-person in the Baldwin Gym (Student Center / SC) and virtually via Zoom at the link below.
Watch Convocation Keynote Speaker Dr. Severine Autesserre
and participate in the virtual Q&A on Zoom here
---
What is Convocation?
Convocation is a special gathering of a group of people for the purpose of focusing on a particular topic. SUNY Broome's annual student Convocation Day, will be held on Tuesday, April 12, 2022, to bring together the College community and, in spirit, the larger community of which the College is a part to address topics around our Convocation theme on political conflict.
Convocation Day Spring 2022 – Tuesday, April 12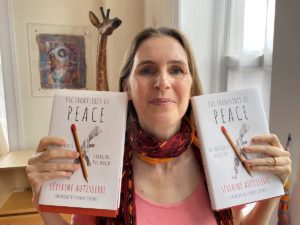 The campus-wide Convocation Committee is pleased to announce our 2022 Convocation Day keynote speaker, Dr. Severine Autesserre, Professor of Political Science at Barnard College, Columbia University. Dr. Autesserre is an award-winning author, peace builder and researcher who has authored multiple books about international conflicts and who has published numerous articles in Foreign Affairs, International Organization and the New York Times. Dr. Autesserre's recent books include: The Frontlines of Peace: An Insider's Guide to Changing the World; The Trouble with the Congo; and Peaceland.
Convocation 2022 will focus on the vital theme of political conflict and how it will likely impact human destiny. We hope that Dr. Autesserre will inspire students and faculty alike to discuss the implications of global and political conflict resolution and how to peace -build right here in the U.S. Please note that Tuesday April 12, 2022 is Convocation Day on which no day or evening classes will be held and all Convocation Day events will be held live on the SUNY Broome campus.
Campus-Wide Convocation Day Committee Members
Professor Irene Byrnes (Chair)
Dr. Robert Congdon, Science, Technology, Engineering, Mathematics Division
Librarian Dr. Amanda Hollister, Library
Professor Gian Roma, Business and Public Services Division
Professor Carla Michalak, Liberal Arts Division
Dr. Virginia Shirley, Liberal Arts Division
Devin Audette, Student Assembly